BOOK REVIEW: ONYX (LUX 2) BY JENNIFER L. ARMENTROUT
5 amazing stars.....
WHAT CAN I SAY ABOUT THIS ONE....
I am dumbstruck. This book actually consumed me from the very starting.
This book is perfect. It had the right amount of mushiness, angst, action, romance.
As soon as I finished the first book (obsidian) I picked this one.
Daemon and Katy's chemistry was off the charts.
"Onyx literally took me on a rollercoaster ride" I did'nt expect so much coming.
---
I loved katy and really admired her guts but man did she made awful mistakes. But inspite of her foolishness I still loved her. There came a time when i wanted to stab her....why in the hell she was being so stubborn. I know Daemon did'nt treat her right when they first met but still she should have logically thought that daemon actually did all that to save her from his world.
BUT NO,
she was so convinced that daemon only felt attracted to her because of the connection that joined them together. Daemon being overprotective as ever wanted to save katy from everything. He was like her shield throughout the book. He tried to convince katy that they had something more than that '
stupid alien connection'
but katy was her stubborn self.
I really wanted to shake some
sense into her
, it was so frustrating but still I loved their relationship. I really loved that "
connection"
theme, it was something fresh.
NOW ABOUT THE BOOK!!
--The ONYX started right from where the OBSIDION has ended. Daemon is his usual cocky self but is arrogance is long gone, katy tries to stay away from him but that is just not possible. The sexual tension between them left me frustrated. They had that push and pull sort of relationship. Katy pushed Daemon away and he pulled her to him.
(He just can't stay away from her, believe me he really tried but it was like they were connected with invisible strings that always join them together).
In onyx we meet new characters and the most amazing part.....we come across sweet!! oh so sweet daemon totally sugar coated (swooning) maybe this is my fanself speaking but for the love of god i am a girl and i have a right to turn into a puddle of mush over guys like daemoon(even if they are completely imaginary!! duh)...
" If there is anything, there is us. You and me. No one else."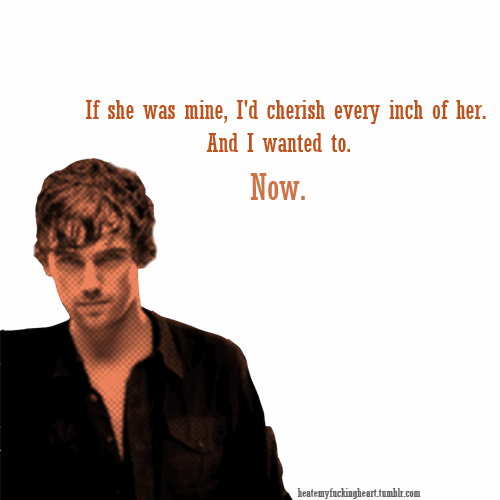 And then enters BLAKE. Blake and katy develops an instant friendship(actually she did this just to make daemon jealous). Daemon hated Blake, he knew somthing was not right, he warned katy off tried his best to make her understand not to trust blake, but katy wouldn't even budge. Daemon would call blake with different names which just added the ,much needed humor, he would call him flake,biff, and god knows what, but i really like it.There came a point when katy Actually dated Blake(I mean what the hell man!) Part of me wanted to stab her, slap some sense into her, how could she do this to daemon. Blake just can't give competition to daemon, daemon is the definition of awesomeness.
Guys you can't miss the thanksgiving scene, belive me!
The sexual tension between daemon and katy was just undeniable.
The story moved at a steady pace and then
BOOM!! PLOT TWISTS, SHOCKS, SECRETS, MYSTERY, DELUSIONS.
The shocks felt like stinging slaps on the face....my jaw dropped..I was like what in the hell had happened...i was not seeing it coming. As one shock weared off, i was hit by another.
Yeah, there are a lot of surprises thrown at you!!
you might even cry from frustration but
hold on
, the best is yet to come.
The climax scene is awfully emotional, it tears you apart. I wanted to get into the book and stop everything.Get ready for some crying.
"That's the funny thing about trying to escape. You never really can. Maybe temporarily, but not completely."
And then she finally confessed her love to daemon(* happy sigh*)
"Say it."
"Say what?"
"Tell me what you told me earlier."
"I love you."
"That's all I ever need to hear."
"Those three words?"
"Always those three words."
And then I didn't even have a little bit of doubt, i knew in that moment that their love would conquer anything the destiny threw at their faces.
And yeah, i loved their 'alien mojo' connection and i freaking wanted them to have little alien babies*silly me*.